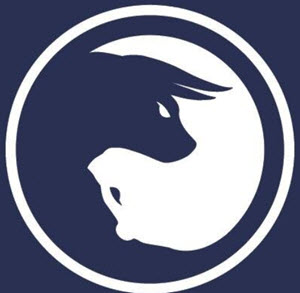 Well-established Binary.com has been in the binary options business since the late 1990s and is one of the true trailbrazors when it comes to binary options trading. Binary.com hasn't always been their brand however – they used to be known as BetOnMarkets.com until 2013 when they switched to the Binary.com brand.
One of the reasons why Binary.com is so appealing to novice binary options traders is the low minimum deposit and the small minimum trade. You only have to deposit £5 to get started trading in a real-money account and you can make individual purchases as small as £1.
Short facts about Binary.com
| | |
| --- | --- |
| Welcome bonus | Sometimes |
| Payout | 91 percent |
| Minimum deposit | 5 GBP |
| Minimum trade | 1 GBP |
| Maximum trade | 100,000 GBP |
| Mobile trading app | Yes |
| Demo account | Yes, with a $10,000 play money trading balance |
| Autotrading robot | Yes |
| Signal service | No |
Trading platform
Binary.com has trimmed down their platform considerably to make it easier to access and utilize. Focus is on trading and relevant trade information. It is a great platform if you like back-to-basics user interfaces.
You start by selecting underlying at the top of the screen. A choice of binary options will be displayed above the trading fields. Select option type, and the trading area below will update with the relevant fields. Next, adjust the expiry time according to your preferences. The most long-lived binary options at Binary.com has a lifespan of 12 months.
Instead of being asked how much you want to risk, the platform will ask you how large a payout you want to receive if the option expires in the money. You select the payout, and the required stake will be calculated automatically and displayed to you. Trading buttons will appear on the right hand side, and you need to select Purchase to finalize the trade.
Opting for the bareback Binary.com trading platform doesn't mean that you have to forego the use of trading tools. On the contrary – you will have access to advanced trading tools if you want to. You can for instance use the Binary Bot feature to build your own trading bot for autotrading.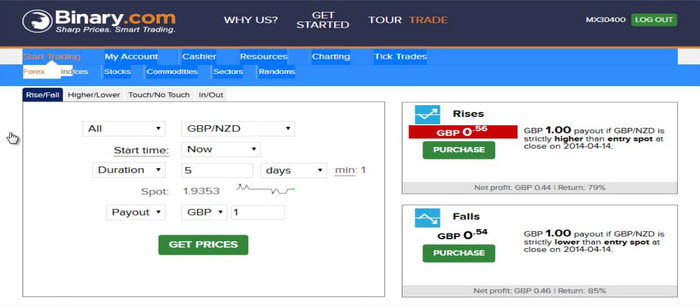 Mobile trading app
Binary.com has a mobile trading app for Android. A mobile trading app for iOS is, at the time of writing, in the process of being developed for Binary.com.
Underlyings for binary options
Company shares
Commodities
Currency pairs (FX)
Indices
In addition to these conventional underlyings, Binary.com also offer binary option underlyings that they call Randoms and that are unique to Binary.com. .
Types of binary options
The bulk of Binary.com's binary option offer is made up by these five binary option types:
Up/Down
Higher/Lower
Touch/No Touch
Ends In/Out
Stays In/Goes Out
With the Up/Down binary option, you try to predict if the underlying will rise of fall. High/Lower binary options are pretty similar, but you try to predict not just direction but also if the underlying will finish higher or lower than a certain predetermined mark.
Touch/No Touch are binary options where the whole life time of the binary option is important – not just the expiry time. Will the underlying touch or not touch a certain predetermined mark at any point during the lifetime of the binary option?
With the Ends In/Out binary options, you need to predict if the underlying will be within or outside a certain predetermined range when the option expires.
Stays In/Goes Out are very similar to Ends In/Out, but will take the entire lifespan of the binary option into account – not just the expiry time. It can be described as a combination of the Ends In/Out and the Touch/No Touch.
Payouts for binary options
Up/Down payouts are typically in the 80% – 94% range, but can occasionally be higher.
In general, Higher/Lower offers higher payouts than Up/Down.
Deposits & Withdrawals
Binary.com accepts a wide range of methods for deposits and withdrawals. The minimum deposit size depends on which deposit method you elect to use. For some methods, it is as low as 5 GBP. Examples of such methods are Neteller, Skrill, WebMoney and FastPay. For credit cards and debit cards, the minimum deposit is 10 GBP. For wire transfers, it is 25 GBP.
Withdrawals through e-wallets such as Skrill and Neteller are typically processed within a day. A bank wire transfer will often take up to five days to process, while a withdrawal to a debit card or credit card can be expected to be processed within three days.
Additional information
Examples of features and perks available to Binary.com clients:
A wade range of charting options to aid technical analysis. Some tools are downloadable, others can be utilized directly in your browser.
Historical and live market data available through chart packages and live feeds.
Educational eBooks, videos and webinars
Robot for autotrading
At Binary.com you can build and utilize a robot for autotrading. It is possible to use complex settings for the robot and create highly advanced autotrading systems.