Setting sail in 2014, Ayrex is a relatively new platform. The platform is controlled and handled by Advanced Binary Technologies Ltd, which is based in St. Kitts. By giving a demo account with no attachments, with promises that says "will not lag, freeze or hiccup" and quick payouts, no freezing in funds and honest advertising, they plan on luring in customers.

Their biggest force is the no deposit demo account. You simply open the platform in your browser, and without supplying any personal information or account registration, you will be able to use the platform with your virtual pocket filled with demo funds.
Keyinfo
Demo Account – Yes. No registration needed.
Minimum deposit – £ 50
Minimum trade – $ 5
Maximum trade – £ 1000
Signal service – Yes, for free
Mobile app – Yes – one for androids and one for iPhones.
Types of Trading
At Ayrex three types of options are presented;
High / Low – The traditional binary option. Ayrex expiry time is between 15 minutes and 1 hour.
Short Term – Same as High / Low but with shorter expiry times.
One touch – If you need to react quickly to changes on the market and cannot afford to lose seconds by confirming trades.
Ayrex really excel when it comes to asset lists. The four list options are forex, indices, stocks and commodities, all of which are quite extensive.
It seems they are still expanding on the options available, with the addition of boundary and ladder on the horizon. Ayrex are still adding more and more assets and will probably continue to do so by the more traders and amount of trades being made.
Scam or Speculation
Ayrex are not at the moment a regulated broker, but have already applied to CySec for regulation. And despite not being regulated, no complaints have so far been filed of them and they have a solid reputation for customer service.
Their Trading Platform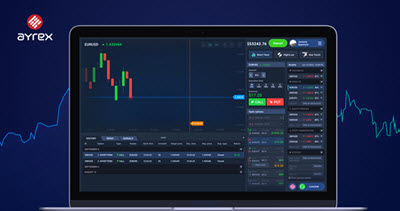 When entering Ayrex, traders are met by a platform which provides a simple and clear overview. From first look the platform will seem very user friendly, especially if you have used other platforms, since it is clear Ayrex have gotten inspiration from other platforms, and taken the best features.
The majority of the platform is a big price chart for any selected asset. The chart can be changed up to fit any timeframe and you can quickly jump back and forth between any particular points in the timeframe. The chart has a zoom function which lets you get a much broader view of the market or a detailed look on a single moment. The trader can also choose between area and candlestick charts.
In the right hand side of the platform users can find the asset lists. All assets are divided in categories, which can be opened or closed, making it easier to find exactly what you are looking for. All the lists have a very wide range and give users the ability to trade on almost any market.
Mobile App
Ayrex have to apps on the market, one for android devices and one for iOS. The mobile platform is built on the layout of the web platform and they look very much alike. All the known features and markets from their website are available on the mobile platform. Since release in the spring of 2016, users have been giving good feedback and the developers and optimized it further.
Withdrawal and deposit
On Ayres deposits are made with Neteller, Skrill, Visa, FastPay or Union. Before you can withdraw any of your deposit again, Ayrex have certain turnover rules which must be upheld. It is important that the trader is aware of this before making a deposit. Any withdrawal made Ayrex will take approximately 3 days; it is like this so the broker can obey to money laundering laws in place.